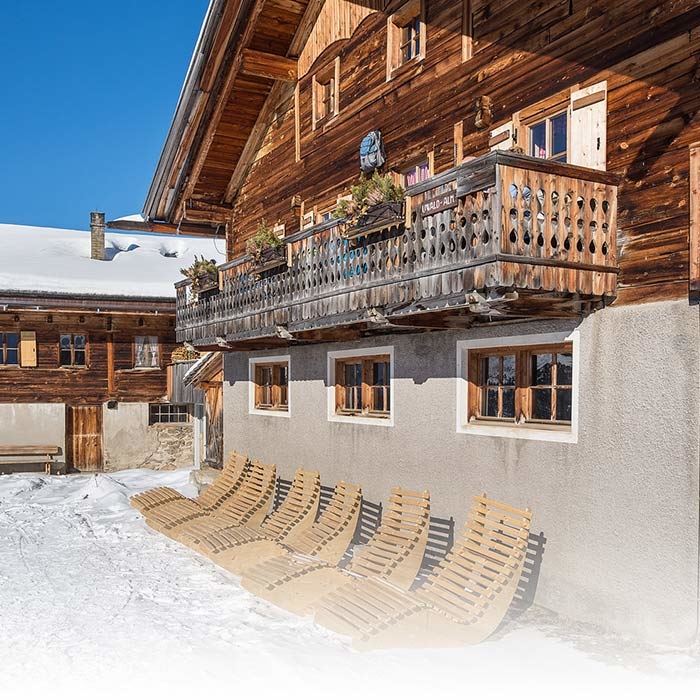 Active programme for winter holidays 04.12.2022-25.03.2023
Monday

Snowshoe-hike for beginners
A very easy hike in Val Casies Valley/S. Maddalena for the purpose of learning how to walk with snowshoes
including safety tips and techniques. (Free with Guest Pass)


An introduction to cross-country skiing – Classic
Explore this Nordic skiing discipline with expert help from the Val Casies ski school: taster lessons in the
basics of classic style (7€ with Guest Pass)

Tuesday

Snow-shoe hike to Aschtalm
Tour through the snowy winter forest from S. Maddalena to Aschtalm 1950m in the Val Casies Valley.
Experienced hikers can climb from the Pfinnalm to the Pfinnscharte 2359m or to the Hoher Mann 2593m (12€ with Guest Pass)

An introduction to cross-country skiing – Skating
Taster lessons in cross country skating style with the Ski School Gsieser Tal. Ideal for refining the technique,
for all levels. (7€ with Guest Pass)

Wednesday

Cross-country-ski excursion in the Dolomites
The tour leads from Germärkpass- Passo di Cimabanche 1530m, to Vista Tre Cime- Drei Zinnen Blick, war
cemetery and Lake Toblacher See and continues on the Pustertal marathon trail to Monguelfo. Stop for
refreshments. Unique view of the Dolomites & and moments of pleasure. Refreshment stop. Access to public
transport to shorten the tour is possible. (15€ with Guest Pass)

Thursday

Snow shoe hike above Tesido with views of the Dolomites
From the Mudler inn to the Taistner Vorderalm mountain hut 2012m and to the top of the Salzla peak 2131m, all the while accompanied by marvellous views of the Dolomites. Refreshment possibility (12€ with Guest Pass)


Friday

Ski tour in Val Casies Valley
Comfortable backcountry ski tour (also for beginners – skiskills) in Val Casies Valley. Good skiing skills
required. (30€ with Guest Pass)

Snowshoe tour by lantern light
An easy, romantic walk under the stars of Monguelfo with lanterns. Starting at the tourist office in Monguelfo
the walk leads to "Plun" with a following bonfire and mulled wine at farm Lettnerhof. Hike with or without
snowshoes (weather permitting). (10€ with Guest Pass)

Saturday


From Prato Piazza to monte Specie
Winter hike with or without snowshoes (depends on how much snow there is) to Mount Strudelkopf 2307m
on the high plateau Prato Piazza in Braies Valley. Refreshment possibility. (17€ with Guest Pass)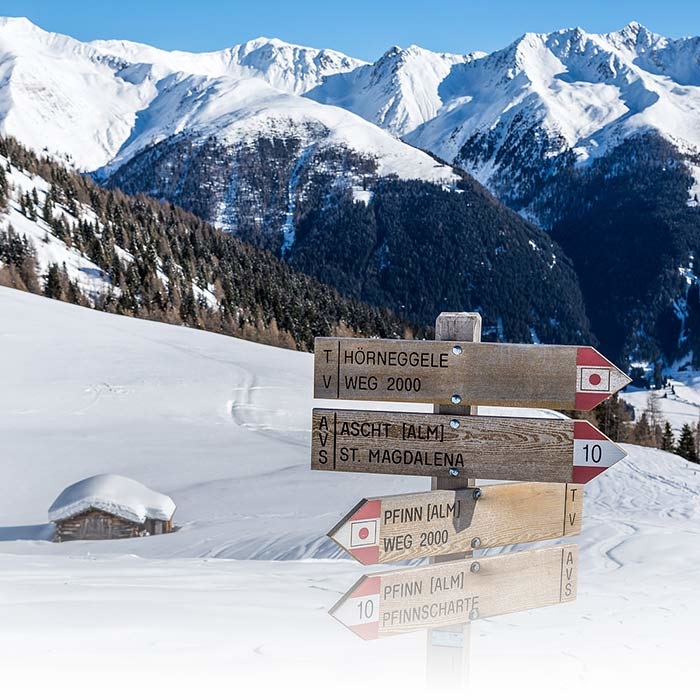 Active programme for spring holidays 26.02.2023 – 15.04.2023
Monday

Trail of Legends
With the mountain guide you can dive into the mystic and fascinating world of Tesido's tales. Four legends from the area around Tesido are represented along the theme trail. Enjoy the spectacular views of the Dolomites in the UNESCO World Heritage. (Free with Guest Pass)


Tuesday

From Prato Piazza to Mount Strudelkopf 2307m
Winter hike with or without snowshoes (depends on how much snow there is) to Mount Strudelkopf 2307m
on the high plateau Prato Piazza in Braies Valley. Refreshment possibility. (17€ with Guest Pass)

Wednesday

Winter hike to the Stumpfalm
A mountain hike through the winter wonderland of Tscharniet Valle to the Stumpfalm 2001m. Refreshment stop. (5€ with Guest Pass)

Thursday

Popena
Snowshoe walk in the mountains of Cristallo nearly Misurina. Stunning views of the surrounding mountains.  Technically easy snowshoe hike. No snowshoeing experience necessary. Please bring your own packed lunch
and drinks. (27€ with Guest Pass)

Friday

Snowshoe walk "Monte Lutterkofp & Monte Durakopf"
Hiking to mount Lutterkopf (2145m) and further to mount Durakopf (2275m) with snowshoes. Breath-taking
views of the Dolomites. Refreshment possibility. (12€ with Guest Pass)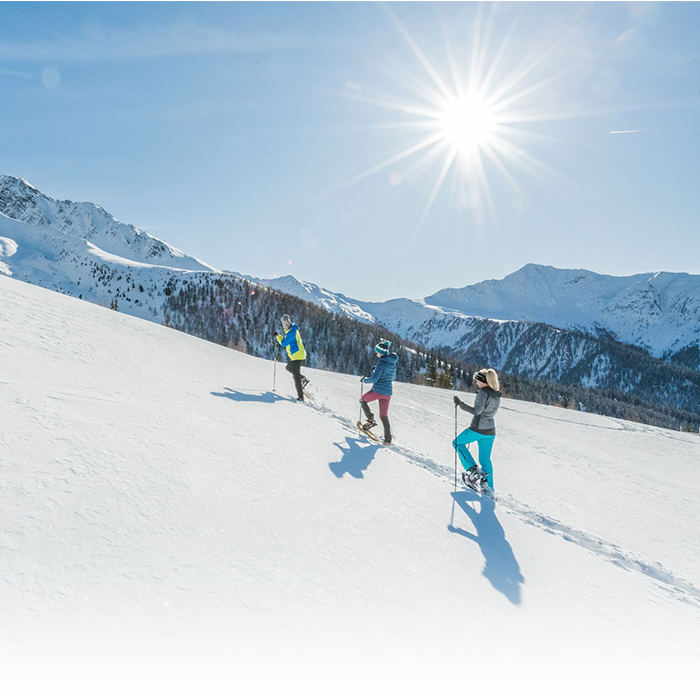 Backcountry Ski Touring programme
08.01.2023 – 14.01.2023
05.03.2023 – 25.03.2023
Monday

Skitouring- Basis
Comfortable ski tour (also for beginners) at the end of Val Casies Valley with introduction to skitouring techniques and avalanche protection.

Tuesday

Pfinn – Fellhorn 2518m
Ski tour through the snow-covered forest to the Aschtalm 1950m. To the west on the Almweg further over the Pfinnalm 2152m to the Pfinnscharte 2395m, steeply to the Fellhorn 2518m. Impressive all-round view over Val Casies and Val Anterselva Valley and the Dolomites. Refreshment possibility.

Wednesday

Mount Golfen 2493m
From the Kurterhof 1650m, first take the forest path along the mountain ridge over the Stacher Riedl to the summit cross on the Golfen. Fantastic view of the Dolomites, the Val Casies Valley and Tesido. Backpack provisions.

Thursday

Prato Piazza 2000m – Crepe di Val di Chiara 2408m – Picco di Vallandro 2839m
From the high-alpine pastures of Prato Piazza all the way to Crepe di Val di Chiara and on to the top of Picco di Vallandro for some breath-taking views. Backpack provisions.

Friday

Kalksteinjöchl 2349m – Gailspitze 2494m
On the paths of the smugglers: ascent to the Kalksteinjöchl, at the transition to the Villgratental (A), further on to the Gailspitze, with a subsequent descent into the Gsieser Tal. Backpack provisions.
COST
Single tour: 90€ with Guest Pass
3 tour package: 250€ with Guest Pass