Schnell & direkt
Book your holiday
---
Cancellation insurance:
Occasionally, something can happen before the start of a trip. With our cancellation insurance you are financially covered. Should a booked stay at a hotel be delayed, or even not taken up or prematurely broken off, cancellation charges can be redeemed in accordance with EU standards. In order to save you any expenses in such cases, we recommend you take out this trip cancellation insurance, with which you are covered by the Europäische Reiseversicherung's travel insurance. Therefore we recommend you: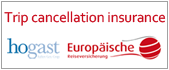 Cancellation Conditions
If you cancel your stay in time, you will not be charged any penalties. For cancellations received 3 weeks to seven days prior to the originally scheduled begin of your stay, we charge you for three days of your stay (unless we succeed in renting the accommodations to someone else). In the case of cancellations received with even less advance notice, we will do our best; in the worst-case scenario, we will charge you 80% of the cost of your accommodations. Upon confirmation of your reservations, you simultaneously accept our cancellation conditions. Thank you for your trust! We are looking forward to your visit!
---
Impressum
Hotel Stoll d. Stoll Wilhelm
Planca di sotto-Puregg 8
39030 Pichl • Val Casies
VAT No.: 02 238 390 211
Tel. +39/0474 74 69 16
Fax +39/0474 74 68 77
www.hotelstoll.com
info@hotelstoll.com
Bank:
Cassa di Risparmio di Bolzano
Filiale di Brunico
Swift: CRBZIT2B070
IBAN: IT73J0604558240000005004305